Hashtag "#Paalam Duterte" is making noise on social media in Twitter as one of the most talk issue as of this writing. The issue is about the President Durterte's resignation from office as he was tired of the unrelenting issue of corruption in the government.
The photo shared most of the online community posted on Twitter account captioned with the lines says…
"Ewan ko kung sabihin ko ito sa inyo. I offered to resign as President. Kasi nagsasawa na ako.

In my years of government, wala nang katapusan itong corruption. Mahirap talagang piligin. 'Yung mga pastillas, hanggan ngayon. It is being committed every day. Can you stop it? You cannot."
The caption was taken from the President's own statement as you can watch and hear him on the video below.
The photo indicated the date created on September 28, 2020 with the Philippine Star logo in the left bottom part of the image.
Watch photos here: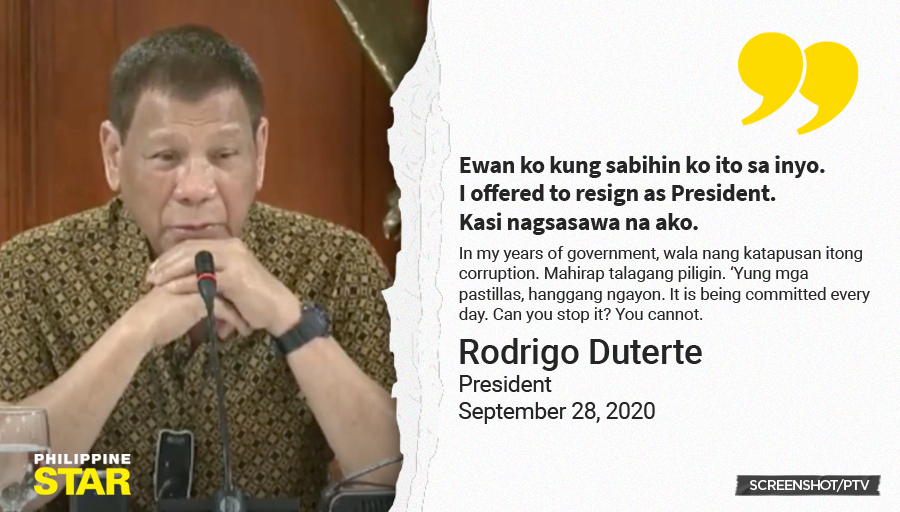 Different photos surfaces on Twitter relating to the resignation of the President, and because of this, the hashtag "#Paalam Duterte" goes viral online especially in Twitter.
To hear from the President offer resignation from office, you may watch this video.
Watch this video:
What can you say about this viral post about the President? Share your comment here below.