Esther Margaux "Mocha" Justiniano Uson reacts to ABS-CBN "Draft Posts" over Metro Manila lockdown on Thursday, March 12, 2020. On her Official Facebook Page, Uson stated "You trolls were so happy when I erroneously mentioned La Trinidad Baguio, but you are so quiet on this grave mistake done by ABSCBN that may cause mass panic. #HYPOCRITES"
ABS-CBN admits posting a draft of Metro Manila lockdown is a big mistake and issued an explanation regarding this matter. "Earlier today, ABS-CBN News inadvertently posted a draft art card on COVID-19 situation while preparing for possible scenarios. There remains to be no declaration of a lockdown in Metro Manila as of this time. We deeply regret the error. We are instituting disciplinary measures against personnel involved in the erroneous posting."
The hashtag #YesToABSCBNShutDown is now trends in social networking sites such as Twitter.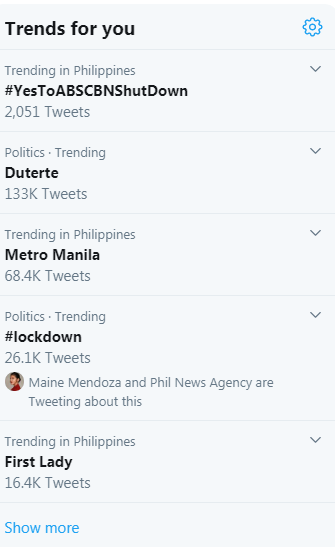 As of March 13, 2020, the latest update of Coronavirus Worldwide, more than 134,327 people have been infected and over 4,969 have died worldwide from the novel coronavirus, have reached some 80 countries and territories. There are 68,898 recovered from the epidemic disease.
As of today, there 3 patient dies due to Coronavirus disease (Covid-19), according to the Department of Health. DOH reports the deaths of three (3) confirmed cases of COVID-19 in the Philippines: PH6, PH5, and PH37.
Share your thoughts and comment in the discussion box below.