Top Trending topic online! A security guard from Bacolod City trends in social networking site after the video showing the hitting incident occurred in front of the Negros Occidental Capitol in Bacolod City. Concern citizen from Bacolod City uploaded the video on Facebook, describe how harsh the guard hitting a mentally ill. After watching the video, the netizens drew angry comments.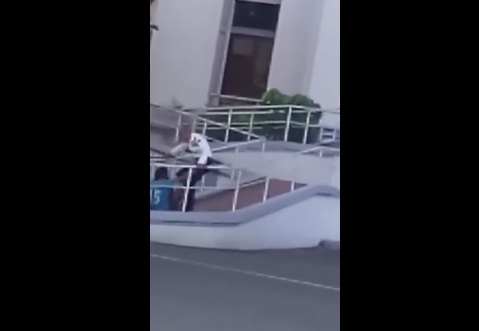 The security guard was identified as Rolly Agasang of Pax Security Agency who assigned at the Capitol (Bacolod) for about 12 years. He was fired from his job after the video showing the hitting incident.
Watch the video below:
Kawawang Matanda Ginulpi ng Guard na gustong Sumikat

Sisikat ka rin Mamang Guard. Wala kang awa, pwede namang paalisin wag lang HAMPASIN.Naganap ito noong January 23, 2016. Isang guard ng Capitol Lagoon (Bacolod City) minaltrato ang isang OLD WOMAN na MENTALLY RETARDED. Ano ba yan Manong Guard konting respeto naman. Sikat ka ngayon. Video Credit: (Gugma Pa More FB Page)Please LIKE Us ➡ PhilNews Your Daily Source of Reliable News on Social Media.

Posted by Philippine Trending News – PhilNews on Saturday, February 6, 2016
According to Vinchito Magalona, security-in-charge at the Capitol, the guard has been relieved from his post. "The security agency also noted that complaints will be lodged against him before the Commission on Human Rights, and the Philippine National Police Firearms, Explosives, Security Agencies and Guard Section, for the revocation of his security guard license", Vinchito Magalona added.
Magalona also noted that all security guards at the Capitol have been instructed to observe maximum tolerance, and hitting and kicking a person could not be tolerated.
The viral video post on Facebook on hitting the mentally ill person was taken last January 23, 2016. For more updates, please follow us on Twitter and by linking us on Facebook.