The Professional Regulation Commission (PRC) announces the official list of passers for October 2015 Criminologist Licensure Examination or more known as Criminologist Board Exam Results within few working days after the last day of examination. Aside from the list of passers, the PRC also announce the Top 10 Passers (TopNotchers), and Top Performing & Top Performance of Schools once available online.
Professional Regulatory Board of Criminology administered the licensure examination in various cities across in the country; Manila, Baguio, Cagayan de Oro, Cebu, Davao, Iloilo, Legazpi, Lucena, Pagadian, Pangasinan, Tacloban, Tuguegarao and Zamboanga, held last October 17, 18 & 19, 2015.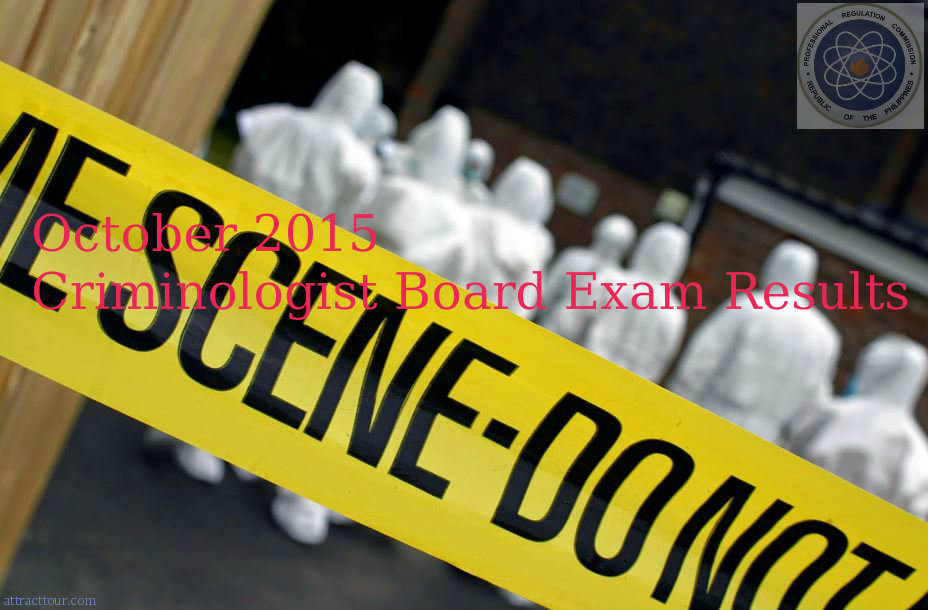 The members of the Board of Criminology who gave the licensure examination are Hon. Lourdes W. Aniceto, Chairman and Hon. Ernesto V. Cabrera, Member.
The Results Has Been Posted!!!!
According to PRC, the target release date of October 2015 Criminologist board exam is on Friday, November 6 or in 14 working days after the last day of exam.
Examinees answered the following subjects; Criminal Jurisprudence, Procedure and Evidence (20%), Law Enforcement Administration (20%) "Day 1", Criminalistics (20%), Crime Detection and Investigation (15%) "Day 2", Sociology of Crimes and Ethics (15%), Correctional Administration (15%) "Day3".
In April 2015 Crim exams, results were released online in 13 working days from the last day of examination. PRC named 4,337 out of 14,696 who have passed the CriminologistLicensure exams.
In October 2014, PRC releases a total of 12, 245 out of 28, 187 who passed the Criminologist Board Exam. The results were released in twenty six (26) working days from the last day of examination.
For more updates, please follow us on Twitter and by linking us on Facebook.