The Professional Regulation Commission (PRC) and the Board of Professional Teachers (BPT) officially release the complete list of Room Assignments on March 29, 2015 (Sunday) for Davao Licensure Examination for Teachers (LET) or more popularly known as Teachers Board Exam for Elementary and Secondary test takers.
The complete list of Room Assignment for the elementary and secondary level will be posted here as soon as the PRC officially released online. Here are the complete list of testing locations on Sunday, March 29, 2015 LET; Manila (NCR), Baguio, Cagayan De Oro, Cebu, Davao, Iloilo, Legazpi, Lucena, Pagadian, Tacloban, Tuguegarai, Catarman and Zamboanga.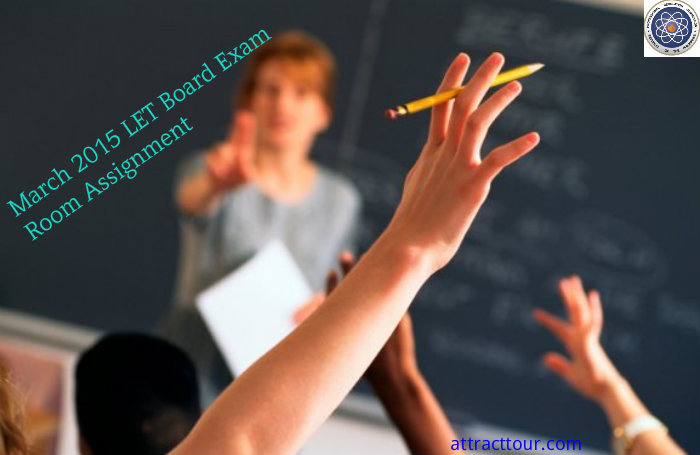 We provided the full list of room assignment below for the various designated testing centers across in the country.
The PRC also announce that due to the high number of examinees and to help takers coming from the provinces without designated testing centers, Board Resolution No. 2015-08 to 09 has been resolved to include Jolo Sulu, Bongao Tawi-tawi, Catanduanes and San Jose, Antique.
Examinees will answer the following subjects;
For Elementary Teacher Examinees ONLY
8:00 a.m. – 10:00 a.m General Education (40%)
11:00 a.m. – 2:00 p.m. Professional Education (60%)
For Secondary Teacher Examinees ONLY
8:00 a.m.  10:00 a.m. General Education 20%
11:00 a.m. – 2:00 p.m. Professional Education 40%
3:00 p.m. – 6:30 p.m. Specialization 40%
Instructions:
Examinees should report before 6:30 in the morning every examination day. LATE EXAMINEES WILL NOT BE ADMITTED.
Bring the following: Notice of Admission (NOA), Official Receipt, pencils no. 1 or 2, black ball pens, metered-stamped window mailing envelope, long brown and long plastic envelopes.
CELLULAR PHONES AND OTHER ELECTRONIC GADGETS ARE STRICTLY PROHIBITED.
Wear the prescribed dress code.
For more updates, please follow us on Twitter and by linking us on Facebook.