Top trending topic for today! Singer Katy Perry will be back to the Philippines when she was here in 2009 and 2012 for a concert tour. This is the third trip of the pop superstar as part of her Prismatic World Tour this coming May 7, 2015.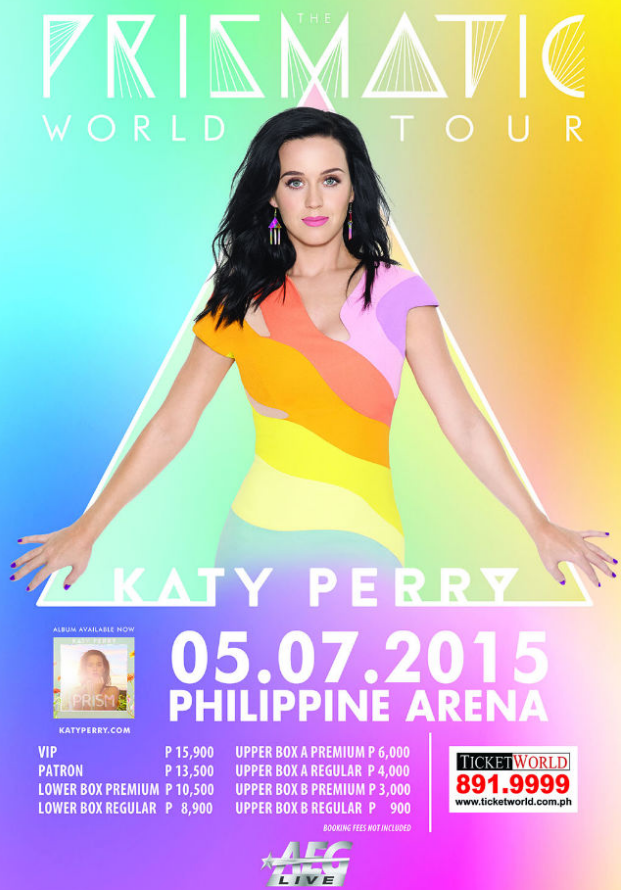 On February 13, 2015, the show will be held at the Philippine Arena in Bulacan and the tickets will go on at 10 am Friday. She was known in her outrageous outfits, catchy pop tunes and always garnered in top and she was the world's biggest top pop stars all over the world.
She got the number one spot on Billboard 200 albums chart last 2013 which was the latest tour is in support of her newest album Prism. The well-known song "Roar" is the biggest hit yet, while the song "Dark Horse" was the 9th number one single and 13th top 10 hit worldwide.
She said on the interviewed, "I'm thrilled to bring the Prismatic World Tour to some of my favorite places in Asia, as well as some sensational places I've never been," she said. "I can't wait to take in the sights and the culture, and share my music and meet all of the new fans", she stated.
Here are the information below on how to get tickets and reservation:
The tickets are available through the Ticket World. The prices of the ticket are P15, 900 for VIP, P13, 500 for Patron, in Lower Box Premium is P10, 500, Lower Box Regular is P8, 900, P6, 000 for Upper Box A Premium, P4, 000 for Upper Box a Regular, P3, 000 for Upper Box B Premium, and P900 for Upper Box B Regular.