A Chinese National caught from his car with 10 bags of "High Grade" of Shabu that worth P15 million in Quezon City that received not once but twice of slaps from Mayor Herbert Bautista on Friday.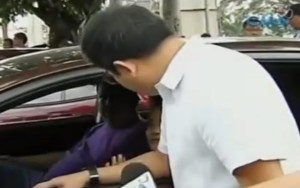 During in Buy-bust operation, the authority found a bag of Shabu that found, but they continue to search if there's another illegal drugs inside the car and finally they got in total of 10 bags of Illegal drugs seized.
When Mayor Bistek asked to the suspect, then the Chinese pointed his ears indicated that he can't understand what he said. After that, the Chinese receives two slaps from the Quezon City Mayor. The suspect was identified by his driver license, and his name is Xu Zhen Zhi from Olongapo City.
Mayor Bistek has wondered accroding to him, "why he got the driver licence if he can't understand Filipino or even English?"
And he also added that "Hopefully it's fake."
The authority is still taking up further investigation regarding to the suspect that who's the persons behind of this Drug issues. And they also believed that he is the member of a biggest drug syndicate in the Philippines.
Here's the video below of how Mayor Bistek slaps 2 times the Chinese suspect.