NBA superstar LeBron James fresh looks wearing the carbon-fiber mask to protect his broken nose impressed her fans and supporters but the NBA association requested LeBron to change it into a clear mask. "It is our understanding LeBron used the black mask because a clear one he was comfortable with wasn't ready," NBA spokesman Tim Frank said according to ESPn.com.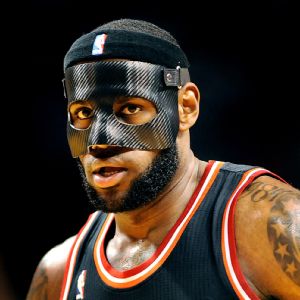 The black mask gave no worries when he got the points of 31 and win over the Knicks with the score of 180-82. James prepared to use a clear mask on Saturday night March 1, 2014 against Orlando Magic.
LeBron James is still request to NBA league that black mask have a comfort and fit to his personality. The uniform of Miami Heat right now is black and he concludes that by matching his black mask going to have perfection reflection to fans. Miami Heat defeated New York Knicks last Thursday Feb.27, 2014.
His team mates forward Shane Battier said, "Only LeBron can make breaking your nose look cool".
The leagued also commented to wear clear mask for the last player like Kyrie Irving Cleveland Cavaliers player last season and a superstar Kobe Bryant last 2012.
LeBron James practiced using his clear mask and giving his teammates a courage anything matters they can get it to the top in Finals.