Prophet Sadhu is known for his prophetic ministry. He was prophesized the earthquake and tsunami that struck Japan in 2011 almost a year before it was actually happened according to his prophecy.
In this video prophecy, Prophet Sadhu mentioned that in the time appointed a big storm will strike the Visayas region of the Philippines. Samar and Leyte were the places that the big storm strong enough will make a landfall and every place the storm will pass by will be drastically destroyed.
Watch video of Prophet Sadhu in his prophecy on the big storm "Yolanda" landfall Visayas
[youtube]http://www.youtube.com/watch?v=zoyZ76oHs04[/youtube]
According to Aaron John Siy, this video was uploaded sometime on April 2013 that is about 7-months before the prophesized super typhoon Yolanda comes to scene.
After the typhoon Yolanda, the said video dramatically increased views until it becomes viral in social media.
Prophet Sadhu's profile in his official website, it says that the prophet is anointed by God following after the signs and wonders and miracles. Followers of Prophet Sadhu strongly believed that he is chosen by God to proclaim His word. Now, he has visited to more than 50 nations all over the world for a witness before the second coming of our Lord.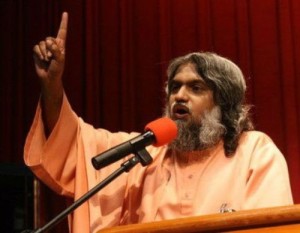 Prophet Sadhu prophesied Typhon Yolanda 7 months before the typhoon landfall eastern Visayas