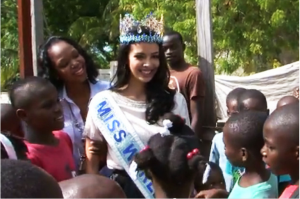 Philippines- Megan Young Miss World title holder, featured in this video below during her visit in the orphanage at Port Au Prince, Haiti last Thursday, October 31, 2013.
The 23-year-old Miss World described that day as full of joy and happiness together with the children of the orphanage in Haiti, when they get into the second floor, children are flocking to her, within a moment for less than a minute, the 2nd floor cracked and everybody falls through.
Injuries reported in the accident were Miss World chief executive Julia Morley and one young boy Jonathan by name, suffered fractures after being hit by falling debris from the 2nd floor collapsed of about 8-10 feet from the floor board.
The Miss World was able to manage herself landing her feet in the right position that she spared herself from injuries and she was able to protect also the crown she wore from possible damage.
Miss Young together with the Miss World team were praying that Julia recovers quickly and Jonathan, who is suffering from a broken leg and is still treated in the local hospital.
[youtube]http://www.youtube.com/watch?v=zl6Y5ARkkfg[/youtube]