The controversial issue between ABS-CBN anchor Korina Sanchez and CNN News anchor Anderson Cooper went viral in social media. The hotspot issue started after the CNN News anchor Anderson Cooper reported about the actual situation he has experienced in Tacloban City.
What Anderson actually said that Korina reacted adversely in his report from Tacloban?
Anderson said…,
"As for who exactly is in charge of the Philippine side of operation, that is not really clear.
I am just surprised.
I expected on this Day Five, I thought I may have gotten here very late, that things will be well in hand—it does not seem like that.
People are desperate; they do not have any place for shelter.
It's very difficult for people to get food, neighbors are helping out neighbors, water is in short supply.
It is a very very bad situation here."
Korina reacted to what Anderson had reported that "there is no real evidence of organized recovery or relief operation" so people suffered difficulties for miserable situation 5 days after the storm.
Korina, in her radio broadcast at dzMM "Rated Korina" dated November 13, reacted and criticized the "blonde reporter of CNN" referred to Anderson Cooper alleging his report as insubstantial and erroneous.
Because of the issue, netizens get flak the ABS-CBN anchor Korina Sanchez for slamming Anderson's report.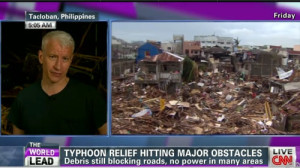 Watch here is the video report of Anderson Cooper.
[youtube]http://www.youtube.com/watch?v=vfkYYPSiHv4#t=87[/youtube]