Top trending topic online! LJ Satterfield's social media account is now dropping followers over the "Boy Tapang" issue. Recently, she posted a video on her YouTube account confirming that she use Boy Tapang to get the YouTube Silver Button.
Here is the official social media account of LJ Satterfield:
https://web.facebook.com/lady.j.marquez
https://www.youtube.com/@ljsatterfield6249
"Kahit umabot tayo sa ganito, bashing and all, I'm still grateful. Let's admit na, dahil ginamit kita, nag-grow 'yung channel ko. Huwag mo ako sabihan na makapal 'yung mukha ko 'cause I did may part as screen partner. Ginalingan ko 'yung trabaho ko… So patas lang tayo."
In some LJ Satterfield Facebook page challenge the Bashers, "Dear Bashers, Kahit punuin nyo ng angry react at i report ang account nato wala akong paki dahil sa main fb page ko marami ako supporters at walang angry reacts doon hahaha. Kahit tingnan nyo pa. Marami nagmamahal sakin. Wag na kayo manigas sa galit dahil tapos na ang laban, ako na ang nanalo hahaha. May silver button ako bwahahaha."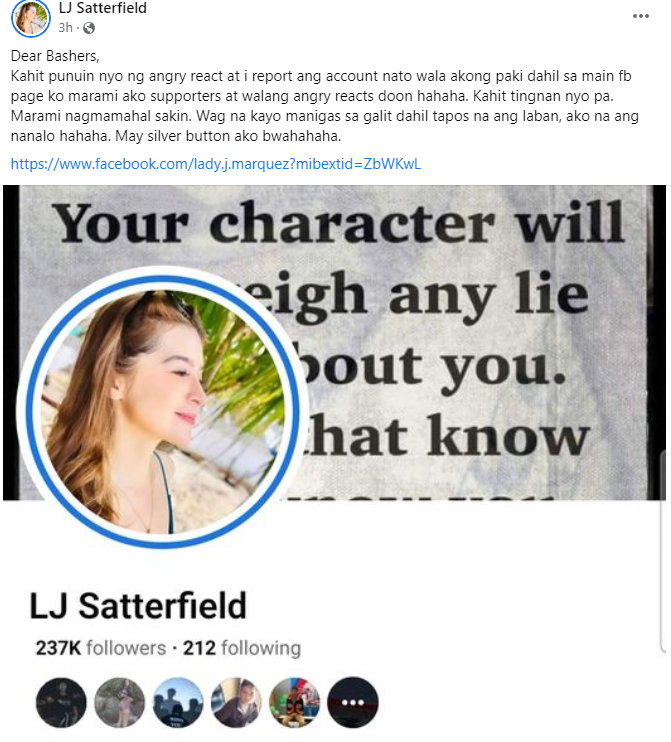 LJ Satterfield Confirm Using Boy Tapang to get YouTube Silver Button
"WALA AKONG PAKIALAM KUNG UNFOLLOW AT UNSUBSCRIBE NYO CHANNEL KO. ANG MAHALAGA SAKIN LUMABAN NG PATAS AT IPAALAM SA TAO ANO ANG TOTOO."
Gusto ko tahimik. Pero palagi akong pinipilit. PLAY FAIR!!!! LJ said.