Davao Vice Mayor Baste Duterte is now monitored after signs of COVID19.
Sarah Duterte his sister revealed he is experiencing fever,cough and sore throat and now under home quarantine as per required by the doctors.
Davao City Mayor Sara Duterte CONFIRM Baste Duterte is now a person under monitoring (PUM) for Coronavirus (COVID-19)
Medical practitioners assures that they will closely monitor the health of the Vice Mayor.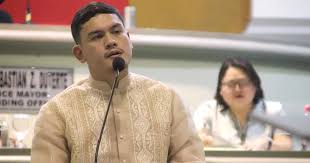 As a total count of COVID19, the total number of positive cases is now goes up to 142 victims and 3 recovered from the disease.
Sadly 12 confirmed death most of them are senior citizens with underlying conditions like asthma, hypertension and diabetes. The virus can worsen this conditions that could lead to death.
It is reported that COVID19 is so lethal on senior citizens and kids who is considered to poor immune system.
As of now the national government is doing its best to monitor the growth of the virus in the control and tight screening of person of interest is now the prior of Department of Health.
President Duterte asks for full cooperation and understanding of the people to join the government mandates and regulation because it is for their own safety and welfare.