The legal counsel of Sen. Bong Revilla Jr. is disappointed towards the denial of the Sandiganbayan First Division of his petition for 4 hours furlough to attend his daughter Ma. Franzel Audette Bautista graduation.
It is remembered that he together with Sen. Jinggoy Estrada and former Senate President Juan Ponce Enrile were convicted of plunder under the Pork Barrel Scam Issue wherein they were allegedly received PDAF kick back from pork barrel scam queen Janet Napoles.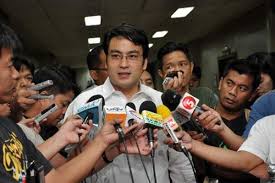 Even though the side of Revilla was saddened about the decision, Sandiganbayan still stands to its final words as they see mockery on the justice system.
The Courts Resolution goes this way "The Court is not inclined at this time to treat as exceptional circumstance the commencement exercises of his daughter in Muntinlupa. To the mind of this court, allowing accused Revilla to attend the graduation of his daughter will not only set a bad precedent, but will likewise be regarded as a mockery of the administration of justice".
The court added that if the said request is intended for the Senators daughter but they cannot grant the appeal of the person who is not the party of the case.
This regards to the Atty Pioquinto argument that the said petition is formally intended for his (Bong Revilla) daughter sake, as according to Revilla it is traumatic on the part the child is his or her father cannot attend of his or her special day.
If his request is granted he will be allowed to stay on the graduation rites from 3 to 5pm but he the assembly time will be at 2:30 pm.
But the court decision is final and the other party has not to do but to respect it final words. Meanwhile Congresswoman Lani Mercado will attend Ma. Franzel commencement exercises held at Ayala, Greenhills.
Meanwhile the side of Sen. Jinggoy was happy upon approval of the court that he is allowed to attend son's graduation. Maybe we find unfair on the side of Sen. Bong, what we should always respect the decision of the higher court.