Mary Ann Van Der Horst is a pure Filipina blood who married the 22, years-old Aussie and makes wave on the International singing competition "The X Factor Australia" to impressed the 4 judges. She impressed the judges Ronan Keating, Natalie Bassingthwaighte, Dannii Minogue and Redfoo by singing the hit song of Beyonce's "Halo".
http://www.youtube.com/watch?v=bTJx3yDovdM
Mary Ann is a 28 year old caregiver from Victoria, Austria garnered four (4) YES from the X Factor Australia judges. She had a powerful voice that surprise the four judges along with the audience to gave her a standing ovation. One of her goal in joining the contest is to meet Ronan Keating and kiss her.
The judges along with the audience were stunned after she opened her mouth and started to sing Beyonce's hit song "Halo". Before singing her audition piece, Mary Ann introduced herself by making jokes about her 22 year-old old husband that annoyed with her voice.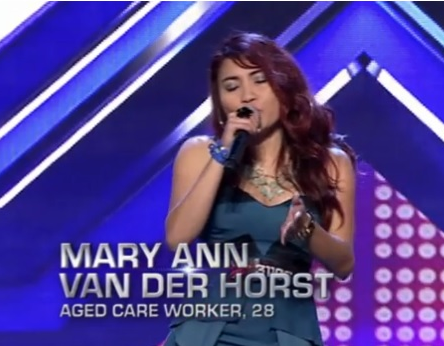 Ronan Keating was shock after he heard the voice of Mary Ann; "When you came out, I thought you weren't serious, I was so wrong". "Everything about you, Mary Ann. The way that you moved onstage, the way that you were singing that song like it was your own, it was incredible to watch. That was amazing". He added.
After Mary Ann received the four "YES", she has a request to Ronan; "Can I Hug and Kiss you" she said. Ronan Keating came on stage to hug and kiss the 28-year-old pinay.
For more updates of the X factor Australia, always visits attracttour.com to have the free updated result of the top trending international singing competition. You can also follow us on twitter and by linking us on Facebook.